Wattup everyone!
A couple of weeks ago, a friend of mine was talking about this series called Reign. I had never heard of it and was curious to find out more. So I looked for it and started watching the first episode. Long story short, I'm at season 3…. I've been wanting to write this post for weeks now and I'm finally doing it haha. I hope you enjoy! (oh and I take no credit for the GIFs and photo.)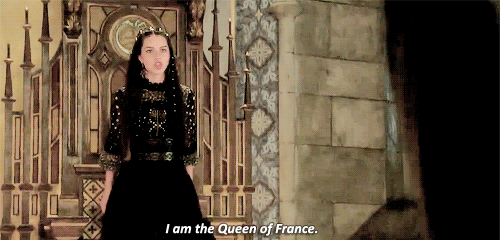 Reign is an American historical romantic drama television series following the early exploits of Mary, Queen of Scots.
The first season opens in 1557, with Mary living in French court and awaiting her marriage to Prince Francis, to whom she has been engaged since they were six. Mary has to contend with changing politics and power plays, as well as her burgeoning feelings for Francis and the romantic attentions of Francis's bastard half-brother, Bash. Francis's mother, Catherine de' Medici, secretly tries to prevent the marriage following Nostradamus's confidential prediction that the marriage will lead to Francis's death. The series also follows the affairs of Mary's Scottish handmaidens Kenna, Aylee, Lola, and Greer, who are searching for husbands of their own at French Court.
(thank you Wikipedia for that lovely description).
I have to admit, I'm not a huge fan of European history in the 16th century and was quite sceptical at first. Obviously, this series is highly fictional as things didn't quite go this way in real life 😂. But I have to say, I've become addicted. It's really cool, and kind of reminds me of Pretty Little Liars. Oh and there are a lot of "hot" scenes so be prepared for that. The style is also so pretty. The dresses look absolutely gorgeous and I swear I would die to put one on! Again, but if the historical inaccuracy bothers you, then this is definitely not something for you.
The music is also really cool. The opening song is by The Lumineers (one of my favourite bands!)
Here's a lil description of the main characters.
Mary Stuart:
Mary Stuart, Queen of Scotland and Dowager Queen of France, is the female lead and protagonist. Passionate and poised at the very beginning of her rise to power, she will prove to be a formidable foe for anyone that stands in her way. She is also a great ally, as she wants to put people before herself. As the series progresses, Mary becomes stronger to stand for what she believes in. She has grown into an independent woman who will go to any length to protect the ones she loves and her country. However, she will go against her husband and his family if necessary as she will always choose Scotland over France since they only have her.
I may live in France but I have the heart of a Scot. –Mary
Francis:
Francis II, King of France and King Consort of Scotland, was one of the male leads and deuteragonist (I had to google this word). He was the eldest son of Henry II and Catherine de' Medici
He's noble, but also has quite the reputation as a "ladies man". He's also quite intelligent, as he's taught himself skills, but is quite modest about them. While spending time with Mary throughout the series, you can see him becoming a better person and falling deeply in love with her.
Sebastian:
Sebastian de Poitiers (also known as Bash and my favourite character hahaha) is the King's Deputy and one of the male leads. He is the illegitimate son of Henry and his favourite mistress, Diane de Poitiers.
As the King's illegitimate and favourite son, Bash was allowed to do more than his half-brother Francis could, because there was no fear of him dying since he would never be King.
Catherine de' Medici:
Catherine de' Medici, Dowager Queen of France, is one of the main characters of the series. She is the widow of Henry II and the mother of ten children (ouch).
At age fourteen, Catherine was married to Henry, the second son of the previous King of France. Catherine and Henry were initially in love, but Catherine was unaware that Henry was already, also in love with Diane de Poitiers. Over time, Catherine feared being repudiated because she had not produced an heir, so she consulted doctors and coerced Henry into taking different, unpleasant remedies.
At first, I absolutely hated her. She was trying to manipulate everyone but was really good at it. As the series progresses, you learn that she is actually fiercely loyal to those she loves, and she would do anything for her children. Though she tried everything she could to ruin the relationship between Francis and Mary, her motivation was pure in the sense that she was trying to save her son from death.
I think that it's a really cool show but there are a lot of graphic details. Mostly fighting, hanging and, well, bed scenes. At first, I was really put off by the amount of blood that is spilt haha but you quickly get used to it. I wouldn't recommend this to teenagers under 13 or so, maybe even older. I personally don't mind the violence but I know it can be quite triggering.
All in all, I definitely recommend it though! It's something different to watch for once, as we see a lot of modern shows these days.
I hope this review helped you a bit or made you discover something new!
---
What do you think? Do you like these kinds of series?
Thank you so much for reading!
XOXO, Rosie