Who doesn't love a good (and sad!) movie to cry about? I certainly do and my mum completely agrees. So here we present (she helped me) to you a huge list of movies you'll love if you're in the mood to cry! (real cheery post actually!) Right, I may have just watched way too many episodes of Friends and Chandler might just be my soul mate in a different universe, please keep that in mind. Another sad thing to add is that I've actually had enough time to watch all of these…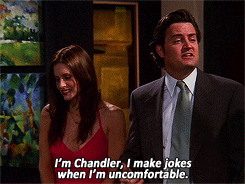 (see what I mean)
*oh and I put all sources for the images, just click on it, no copyright intended*
Me Before You
Louisa Clark (Emilia Clarke) a young and quirky girl moves from one job to the next to help her family. Her cheerful attitude is put to the test when she becomes a caregiver for Will Traynor (Sam Claflin), a wealthy young banker left paralyzed from an accident two years earlier. Will's cynical outlook starts to change when Louisa shows him that life is worth living and they soon form a deep bond.
My thoughts: I think the movie was very touching although I didn't cry (almost did). Great acting and it did bring a sad smile to my face. Definitely recommend it!
Anne with an E
Amybeth McNulty stars as Anne, a 13-year-old who has endured an abusive childhood in orphanages and the homes of strangers. In the late 1890s, Anne is mistakenly sent to live with ageing siblings, Marilla and Matthew Cuthbert, who live on Prince Edward Island. Anne, who proves to be uniquely spirited, imaginative and smart, transforms the lives of Marilla, Matthew and everyone else in their small town.
My thoughts: Well, this isn't a film but one of my favourite series, I felt the need to share it. The first episode made me honestly ball my eyes out (and that doesn't happen a lot!) Amybeth McNulty plays the role so beautifully, I look up to her so much. The series isn't actually sad, it's so uplifting, it just makes you want to create art and run around in fields in an old maids dress. My point is, you're missing out if you haven't given it a go yet!
The Fault In Our Stars
Hazel Grace Lancaster (Shailene Woodley), a 16-year-old cancer patient, meets and falls in love with Gus Waters (Ansel Elgort), a similarly afflicted teen from her cancer support group. Hazel feels that Gus really understands her. They both share the same acerbic wit and a love of books, especially Grace's touchstone, "An Imperial Affliction" by Peter Van Houten.
My thoughts: If you've read any of my bookish posts then you know my deep love for this story. They nailed the film so if you're ready to cry even harder than with the book, perfect! I'm tearing up just thinking about it, JOHN GREEN YOU HAVE BROKEN ME (just kidding…*cough*).
The Cider House Rules
A young man is taught medicine by the doctor at the orphanage where he was brought up. However, when he clashes with his mentor over the issue of abortion, he leaves the home and finds work on a cider farm. (the rest is on Wikipedia but spoiler alert so yeah)
My thoughts: I think it's one of those films that's beautifully sad. The story is really interesting with different opinions throughout it.
My sister's keeper
Conceived as a marrow donor for her gravely ill sister, Anna Fitzgerald (Abigail Breslin) has undergone countless surgeries and medical procedures in her short life. Though their older daughter's life has no doubt been prolonged, the unorthodox decision of Anna's parents has cracked the entire famil
y's foundation. When Anna sues her parents for emancipation, it sets off a court case that threatens to destroy the family for good.
My thoughts: If there's one film from this list that wins the sadness contest then this one wins twice. I balled my eyes out so hard, I've never cried more for a movie. But recommend it!
Call me by your name
It's the summer of 1983, and precocious 17-year-old Elio Perlman is spending the days with his family at their 17th-century villa in Lombardy, Italy. He soon meets Oliver, a handsome doctoral student who's working as an intern for Elio's father. Amid the sun-drenched splendour of their surroundings,
Elio and Oliver discover the heady beauty of awakening desire over the course of a summer that will alter their lives forever.
My thoughts: Again as I said with The Cider House Rules and Good Will Hunting (coming up), it's more of a beautifully sad film. It's not necessarily one that will make you cry.
Good Will Hunting
Will Hunting (Matt Damon) has a genius-level IQ but chooses to work as a janitor at MIT. When he solves a difficult graduate-level math problem, his talents are discovered by Professor Gerald Lambeau (Stellan Skarsgard), who decides to help the misguided youth reach his potential. When Will is arres
ted for attacking a police officer, Professor Lambeau makes a deal to get leniency for him if he will get treatment from therapist Sean Maguire (Robin Williams).
My thoughts: "It's not your fault" scene, I don't need to say more.
Titanic
James Cameron's "Titanic" is an epic, action-packed romance set against the ill-fated maiden voyage of the R.M.S. Titanic; the pride and joy of the White Star Line and, at the time, the largest moving object ever built. She was the most luxurious liner of her era — the "ship of dreams" — which ult
imately carried over 1,500 people to their death in the ice cold waters of the North Atlantic in the early hours of April 15, 1912.
My thoughts: Do I even need to explain why this film is sad?
The pursuit of Happyness
Life is a struggle for single father Chris Gardner (Will Smith). Evicted from their apartment, he and his young son (Jaden Christopher Syre Smith) find themselves alone with no place to go. Even though Chris eventually lands a job as an intern at a prestigious brokerage firm, the position pays no mo
ney. The pair must live in shelters and endure many hardships, but Chris refuses to give in to despair as he struggles to create a better life for himself and his son.
My thoughts: One of my friends recommended it to me and it was really just heart-warming.
Life Is Beautiful
A gentle Jewish-Italian waiter, Guido Orefice (Roberto Benigni), meets Dora (Nicoletta Braschi), a pretty schoolteacher, and wins her over with his charm and humour. Eventually, they marry and have a son, Giosue (Giorgio Cantarini). Their happiness is abruptly halted, however, when Guido and Giosue ar
e separated from Dora and taken to a concentration camp. Determined to shelter his son from the horrors of his surroundings, Guido convinces Giosue that their time in the camp is merely a game.
My thoughts: I haven't actually seen this film yet but my mum says it's sad.
Still Alice
Dr. Alice Howland (Julianne Moore) is a renowned linguistics professor at Columbia University. When words begin to escape her and she starts becoming lost on her daily jogs, Alice must come face-to-face with a devastating diagnosis: early-onset Alzheimer's disease. As the once-vibrant woman struggle
s to hang on to her sense of self for as long as possible, Alice's three grown children must watch helplessly as their mother disappears more and more with each passing day.
My thoughts: Moore's amazing acting of Alice's constant battle with Alzheimer's makes this film very sad, especially for people that know someone with the disease.
Boy in the striped pyjamas
During World War II, 8-year-old Bruno (Asa Butterfield) and his family leave Berlin to take up residence near the concentration camp where his father (David Thewlis) has just become commandant. Unhappy and lonely, he wanders out behind his house one day and finds Shmuel (Jack Scanlon), a Jewish boy
of his age. Though the barbed-wire fence of the camp separates them, the boys begin a forbidden friendship, oblivious to the real nature of their surroundings.
My thoughts: It's interesting to see a film about the war from a different perspective. It's coming from a small German boy who does not know what's going on. His innocence is what makes this movie so touching.
Whiplash
Andrew Neiman (Miles Teller) is an ambitious young jazz drummer, in pursuit of rising to the top of his elite music conservatory. Terence Fletcher (J.K. Simmons), an instructor known for his terrifying teaching methods, discovers Andrew and transfers the aspiring drummer into the top jazz ensemble,
forever changing the young man's life. But Andrew's passion to achieve perfection quickly spirals into obsession, as his ruthless teacher pushes him to the brink of his ability and his sanity.
My thoughts: Being a musician myself, I was very touched by this movie. Miles Teller did an amazing job acting the part and in some way, I relate to it as well (even though my teacher is very nice), I mean the struggle to succeed in something you love.
Boy's don't cry
Young female-to-male transgender Brandon Teena (Hilary Swank) leaves his hometown under threat when his ex-girlfriend's brother discovers that he's biologically female. Resettling in the small town of Falls City, Nebraska, Brandon falls for Lana (Chloë Sevigny), an aspiring singer, and begins to pla
n for their future together. But when her ex-convict friends, John (Peter Sarsgaard) and Tom (Brendan Sexton III), learn Brandon's secret, things change very quickly.
My thoughts: Another one of my mum's recommendations so I can't say much about it.
Philadelphia
Fearing it would compromise his career, lawyer Andrew Beckett (Tom Hanks) hides his homosexuality and HIV status at a powerful Philadelphia law firm. But his secret is exposed when a colleague spots the illness's telltale lesions. Fired shortly afterwards, Beckett resolves to sue for discrimination,
teaming up with Joe Miller (Denzel Washington), the only lawyer willing to help. In court, they face one of his ex-employer's top litigators, Belinda Conine (Mary Steenburgen).
Remembrance (2011)
Lovers become separated, each convinced the other died after escaping from a concentration camp.
My thoughts: I may have a thing for stories about the war but this is another amazing one that is quite touching.
Bridge to Terabithia
The life of Jesse, an adolescent, changes when he befriends Leslie, the class outsider. The children create an imaginary world called Terabithia, which is inhabited by all manner of magical creatures. Though difficulties fill their ordinary lives, Jesse and Leslie
rule as king and queen in Terabithia. Soon one of the friends must draw on the strength of their imaginary kingdom to cope with a tragedy.
My thoughts: Not actually a sad movie, but the ending makes you sob every time.
Schindler's list
Businessman Oskar Schindler arrives in Krakow in 1939, ready to make his fortune from World War II, which has just started. After joining the Nazi party primarily for political expediency, he staffs his factory with Jewish workers for similarly pragmatic reasons. When the SS begins ext
erminating Jews in the Krakow ghetto, Schindler arranges to have his workers protected to keep his factory in operation, but soon realizes that in so doing, he is also saving innocent lives.
My thoughts: My favourite teacher actually recommended me this film because we're both fascinated by the topic. The tragic circumstances make it, along with a lot of other films very touching.
The Blind Side
Michael Oher (Quinton Aaron), a homeless black teen, has drifted in and out of the school system for years. Then Leigh Anne Tuohy (Sandra Bullock) and her husband, Sean (Tim McGraw), take him in. The Tuohys eventually become Michael's legal guardians, transforming both his life and theirs. Michael's tremendous size and protective instincts make him a formidable force on the gridiron, and with help from his new family and devoted tutor, he realizes his potential as a student and football player.
My Thoughts: Mike's situation was heart-breaking and it did take a bit not to cry.
---
And that's it! I haven't done this long of a post for ages now so it was really fun to do. Thank you Wikipedia as well for explaining all the plots otherwise this would have taken a lot longer!
Toodles, Rosie <3